Waxahachie Autoplex Collision - Collision Repair in Ellis County

STAGE 1 - Introductions & Estimates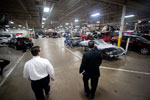 At Waxahachie Autoplex Collision Center, you will find your experts in excellence. Your experience begins with a proper Ellis County welcome from our certified customer service representatives. They will provide accurate estimates to your insurance company to ensure a smooth transition - with no second-guessing. We listen to your needs to provide you with a precise diagnosis regarding your vehicle. We pre-order parts while working on timing estimates, shuttle service and rental cars for you.
Stage 2 - Repairs & Rebuilds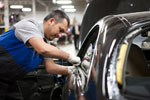 Our factory-certified technicians begin work on your vehicle based on its needs from disassembling and assessing hidden frame damage to smoothing and fine-tuning. We move forward with a complete restoration of replacement parts. Waxahachie Autoplex Collision Center undergoes extensive certification that includes annual manufacturer audits, OEM-authorized parts and repair equipment and annual manufacturer training updates. You can rest easy knowing your vehicle's warranty remains in tact.
Stage 3 - Prepping & Painting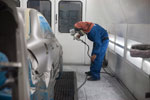 After the factory-certified technicians assess your vehicle for all major damage, fixes and adjustments with precision, we start prepping the vehicle. This includes moving to a clean room where technicians buff and prime pre-painted areas. Then, we apply our top quality paint and clear coat to exactly match factory colors and textures.
Stage 4 - Reassembly & Restoration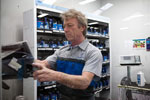 Your vehicle then goes to our factory-certified body technicians for final body assembly, additional mechanical work, interior adjustments and minuscule restoration details. This ensures everything is restored to the same way your vehicle left the factory. From door handles to emblems, your vehicle receives first class treatment.
Stage 5 - Detail & Delivery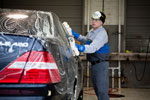 Our goal is to deliver your vehicle in "day one" condition. Our service writers fully inspect the vehicle to ensure all parts, measurements and services are completely factory-certified. Then, we hand wash and detail the vehicle with the utmost care. The result is a vehicle delivered with the Park Place showroom shine. Our next step is to contact you and ensure you have transportation to our facility, or if needed, front door delivery of your vehicle.
Make an Inquiry
Collision Center

1800 W Hwy 287 Bypass
Waxahachie, TX 75165
Phone: (972) 825-4531
Fax: (972) 937-6008

Collision Center Navigation